Pretty Patterns.
A patterned bathroom is a gorgeous bathroom. We love patterns, be it on the floors, the walls or the vanities, patterns are just so different and really make a statement in a bathroom.
There are some beautiful ways to add patterns to your bathroom, let's take a look.
Patterned tiles.
Tiles are so versatile in a bathroom and can really make or break the look of the bathroom.
You can choose to go a little over the top or more understated with your tile choice – there are plenty on the market to choose from. Whether you are tiling your floor or tiling your walls, or both together, a patterned tile will add life to your bathroom space. You could keep the rest of your bathroom quite neutral so that the tiles stand out, or mix and match patterns in your bathroom to create a vibrant look.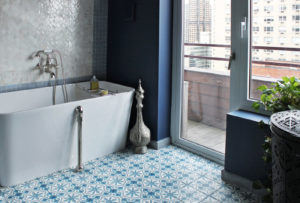 Patterned wallpaper.
Wallpaper is an easy, yet stylish way to add colour and variation to your bathroom. Choose a beautiful leafy pattern like the image below or go for a more subtle pattern for your bathroom. Combined together with a patterned tile, and your bathroom is right on trend.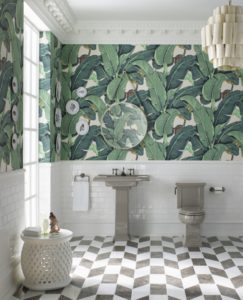 Patterned vanities.
There is something so unique about a bathroom basin or bath that is more than just your average white look. A patterned bathroom vanity looks so sophisticated and will bring that much-needed variation to your bathroom.
With a blend of Italian and Moroccan influence, this beautifully crafted Marrakesh basin from Kohler would be a gorgeous addition to any bathroom.
Patterned rug.
Adding a rug to your bathroom is an easy and effective way to bring in some patterns and extra colour. If you have a very plain looking bathroom and are wanting to bring in colour and patterns, then a rug is the way to go. Choose a rug size that fits well in your bathroom and instantly see the change it brings to the look of your space.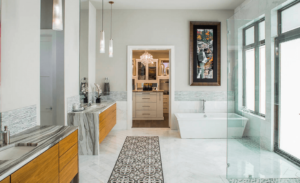 Let us help guide you with your bathroom look. Our expert staff will help you create the space of your dreams. Contact us today to make an appointment.