Modern bathrooms, as with most things in life, have evolved. Thankfully, they bear almost no resemblance to the "you-can-have-any-colour-you-like-as-long-as-it's-white" utilitarian bathrooms of yesteryear. Where they were once the least thought-about rooms in the house, bathrooms are now celebrated and embraced as places we actively want to spend time. Home spas, if you will, where we go to relax, refresh and revive. So, if you're planning a bathroom, either new or remodelled, here are few ideas and tips to help you create a space that not only looks and feels great but also functions seamlessly.
Planning A Bathroom – Layout And Design
It's easy, when planning a bathroom, to get caught up in the romance. To focus only on the "soft stuff" – luxury shower heads, intimate lighting and using nature-inspired materials such as stone and bamboo. And there's no denying that all these elements can combine to make your bathroom a truly luxurious space.
But here's the thing:
Bathrooms also need to work for a living. Amid all the soft lights, fluffy towels and showers-for-two, we need to also have plumbing drains, outlet pipes, and water lines. Typically, bathrooms have either one, two or three "wet walls," i.e. walls which feature pipes and plumbing. Ideally, you want your toilet located against an exterior wall, as this makes the positioning and installation of the waste outlet pipe much easier. If your bathroom has a one wet-wall layout, your basin and shower and/or bath would then also have to be positioned along the same wall. This is by far the most cost-effective option, but can also be somewhat limiting in terms of design. However, as this picture shows, with a little creativity, planning a bathroom with just one wet wall can still give great results.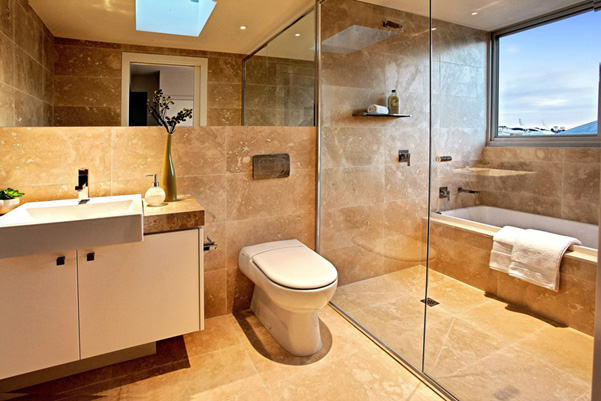 https://za.pinterest.com/pin/112449321917443816/
To help you achieve this look, Richmond Plumbing offers a wall-hung toilet combination, consisting of a Duravit Starck 3 wall-hung pan with soft close seat, a Geberit in-wall cistern and a Geberit Alpha actuation plate. Find out more here.
The Case For Space
When planning the layout and design of your bathroom, make sure you allow for enough space for everything to work as it should. Can the shower door open without hitting the toilet or basin, for example? Is there enough room for you to stand and dry off when you get out of the shower or bath? Do you have enough storage and countertop space?
Cleaning And Maintainance
Bathrooms are where you go to get clean, but they also need cleaning themselves, and this should be a factor you consider when choosing your countertops, floor and wall finishes. Some materials look amazing but need constant maintenance. Others are difficult to clean. Take time to familiarise yourself with all the characteristics of the materials you like before making a final decision.
Planning For The Future – A Bathroom For All Ages
When you're still young and agile, thinking about how you'll use your bathroom later in life is not usually on top of your list of considerations. But the truth is, we all grow older, and as you age, you may not have the resources to completely remodel your bathroom to accommodate your changing needs. So, if you're planning a bathroom renovation, it doesn't hurt to factor in a couple of ideas so that it still serves your needs many years from now. For example, will you still be able to get in and out of your bath when you are older? Is there enough light? And will you be able to install grab bars and other wall-mounted accessories if and when necessary?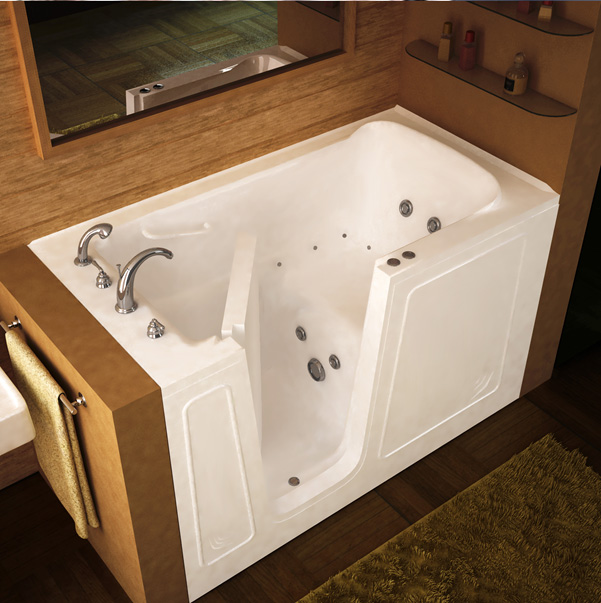 https://za.pinterest.com/pin/61009769929220452/
Planning A Bathroom – A Sound Investment
There are many luxurious touches you can add to your bathroom to make it a truly pampering space. Think about heated towel rails and floors, shower jets and a rain-type shower head. You can also take luxury a giant step further and install a TV, fireplace and music in your bathroom!
Richmond Plumbing has the perfect product if you're looking to add a little musical magic to your morning shower! Take a look at the Kohler Moxie showerhead and speaker. This Bluetooth shower rose means you no longer have to miss out on your favourite tunes or radio programme while you shower.
If you'd like to know more about how Richmond Plumbing can help you plan the bathroom of your dreams, why not visit one of our showrooms, where you can view our vast range of accessories for yourself.