It's a well known fact that colour can have a profound effect on our mood. The artist Pablo Picasso once remarked, "Colours, like features, follow the changes of the emotions." Some colours, for example, can have a negative effect on how we feel – research shows that certain colours are associated with increased blood pressure, increased metabolism, and eyestrain. Our feelings about colour are also often deeply personal, rooted in our culture and experiences. White, for example, is used in most Western cultures to denote innocence and purity, but in many Eastern countries, it's the colour of mourning. Our homes, too, have not escaped the influence of colours. Bathroom colours in particular are a hot topic amongst interior designers.
Very often, bathrooms steer clear of bold colours and polarising hues in favour of more neutral tones. The perception is that white, and varying shades of creams and beiges, are cleaner and more refreshing – the perfect choice for a bathroom. But while these may be safest, and therefore most popular bathroom colours, they definitely aren't the only option. In fact, bolder, brighter shades can add distinctive style and life to your bathroom.
Colour expert Kate Smith of Sensational Color believes you should choose your bathroom colours based on how you want that room to feel. "Different colours speak to our brains, and our hearts," she says. "Think about the function and feeling of your bathroom, and that will lead you to a colour scheme."
Bathroom Colours For Every Bathroom
Sometimes, simply painting a single wall in a bold accent colour, or accessorising with brightly coloured towels and mats, is all that's necessary to transform a plain white bathroom into something eye-catching and impressive. Of course, if your bathroom is the right size or style, all-over colour can be truly dramatic. To help you decide, here are a few ideas of how certain bathroom colours can be used to great effect.
Orange
Orange is a fun colour that exudes energy. It does tend to be polarising though – you either love it or you hate it! Many people like to use it to express their creativity, and you can see from this picture just how effective and striking an orange bathroom can be.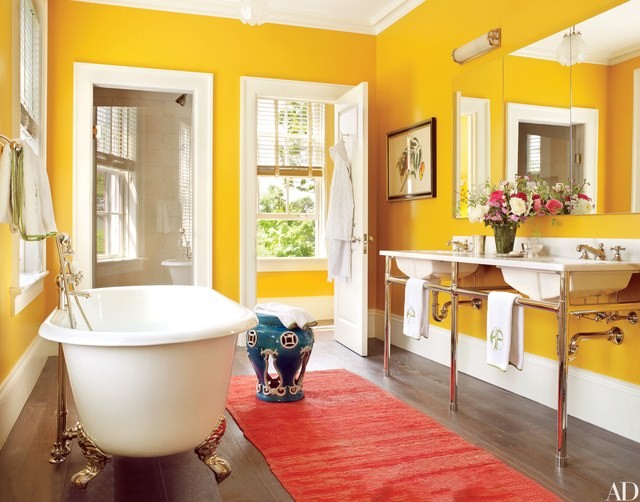 Photo: Pieter Estersohn
Blue
There are many reasons why blue is so many people's favourite colour. Blue represents permanency and security – think of blue sky and blue seas, they are always there. "There's a real trust factor with blue," says Kate Smith. This is why so many corporate logos are blue, and why most police and security personnel uniforms are varying shades of blue. Blue is also proven to be very calming, slowing down our breathing and heartbeat. If you want to add a little mystery to your bathroom, choose deeper shades of blue, such as midnight blue or indigo.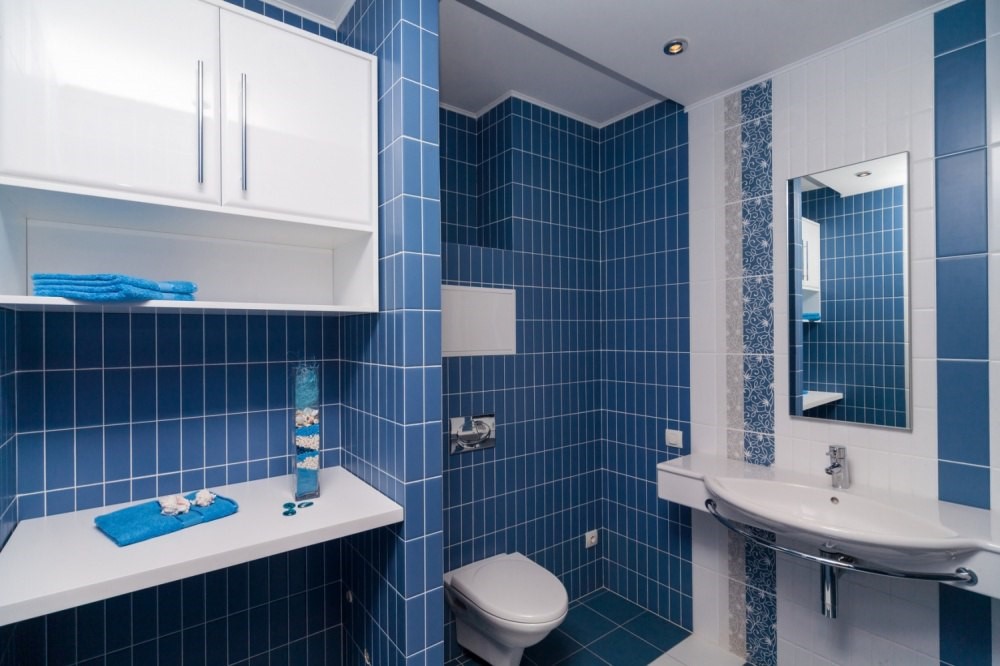 If you're into Feng Shui however, blue isn't usually considered the best choice for a bathroom colour as it represents the water elements – of which there are already many in a bathroom. To comply with Feng Shui principles, you need warmer colours to balance the cool water energy. We'll take a closer look at Feng Shui bathrooms in our next blog.
Green
Although also not a Feng Shui colour, green evokes a great sense of calm, peace and balance. We associate green with nature, and that inspires feelings of growth and renewal. As human beings, we can actually distinguish more shades of green than of any other colour. This is an evolutionary ability, a hangover from the days where we lived surrounded by a largely green natural environment. We had to learn to detect the slightest changes in our landscape, which could indicate a predator was near.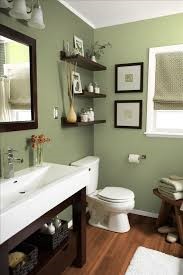 Photo: GJ-Home Design
There are as many choices for bathroom colours as there are colours themselves. What you choose depends on so many factors – your personal preferences, the size of your bathroom, and even the direction it faces – a north facing bathroom, for example, lends itself better to a cooler colour palette.
Once you've decide on a colour scheme, if you'd like some friendly, professional advice on what fixtures and fittings to choose, chat to Richmond Plumbing. From stylish baths to graceful mixers, practical sinks to high-end showerheads, we have what you need. We are also a preferred distributor for key brands such as Kohler, Duravit, Geberit, Grohe and Franke.