During the month of April, we're focusing on BOLD AND BLACK trends and accents in interior design, focusing (obviously) on kitchens and bathrooms. In order to make the bold and deep colour of black work for you, you need to know where and how to use it correctly. When it comes to the black interior trend, accents are everything. And we now know that the black interior trend is here to stay for a while. So why not add some black accents into your home.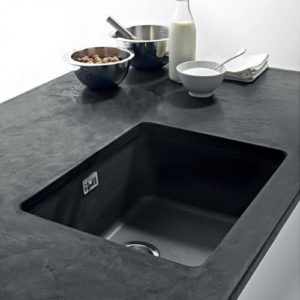 Kitchen
With the current kitchen trend of all white everything, adding splashes of black can give your kitchen a sophisticated and refined style.
Try adding a black sink like the Franke Kubus KBG 110-70 in Fragranite Onyx. Or upgrade your current tap with the Franke Active Swivel in Fragranite Onyx.
Black and white together is a sophistication staple.
Bathroom
As the saying goes, "Go big or go home." Change things up by installing a luxurious Barcelona 2 bath from Victoria + Albert into your bathroom. It's bold, it's brave. If this is too much for you, add a Duravit Vero basin in black high-gloss. Still bold, less brave, still classy.

If you are in Kwa-Zulu Natal and want to know more
about the different black kitchen and bathroom products,
then get in touch or visit our showrooms!
Go bold.
Go black.
Go with Richmond.