Creating a Tranquil Oasis
As 2018 wound to its eventual end, many holiday conversations tended towards discussing the ups and downs of 2018 and ways in which to preemptively improve things in 2019.
For many, the list of grievances of the year before include factors such as too much stress, not enough down time, not enough "living in the moment" and fatigue. While this list may seem daunting to tackle, we believe many of these problems can be addressed by creating a tranquil oasis in your own home: your bathroom!
It is possible to turn your own bathroom into a heaven space. With Richmond Plumbing's bathroom suites, the options are limitless. Bathroom suits that include options like walk in shower enclosures, doorless showers or even showers with seating; perfect for you to lather up in and let the water do all the work without being on your feet.
For the ultimate experience in relaxation there is no better addition to your bathroom suite than a luxurious bath. There is so much in the way of relaxation that a bath can offer a shower just cannot provide in your bathroom suite. Baths provide the ultimate tranquil escape from the world; sometimes the only solution to an exhausting day is to draw a hot bath, light some candles and soak away the worries of the day in a big bubble bath.
Richmond Plumbing offers a large array of options of bath designs to choose from that will perfectly compliment your bathroom suite and provide you with the ideal location to relax and unwind. Whether you prefer a spa bath or a stand-alone, the call is absolutely yours. Richmond Plumbing will supply your ideal bath to suit your exact bathroom design.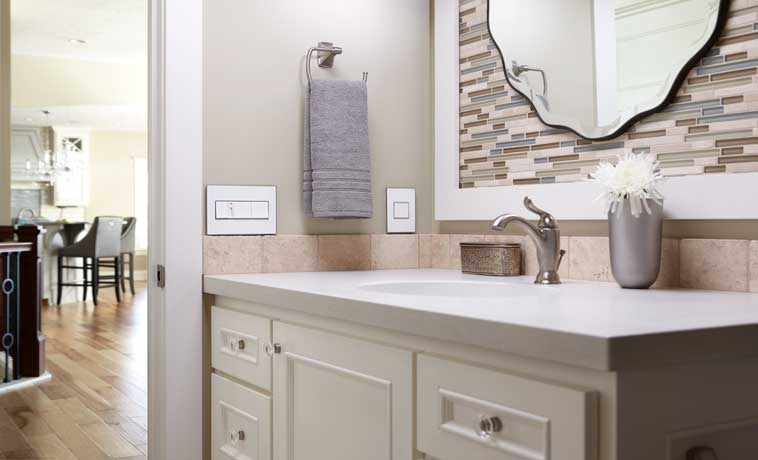 Choose to create a tranquil, safe haven for yourself to refresh and renew this 2019. Get creative with your bathroom suite; there are so many bath, shower, basin, tap and general sanware options available at Richmond Plumbing to help you make your bathroom your favourite room in the house.
Once you have your new bathroom suite from Richmond Plumbing installed, with the shower, bath, basin and taps that best speak to your taste and lifestyle; here are some additional touches you can add to your bathroom suite to make it the most tranquil and happy space in your home:
1. Ditch the Dodgy Bathmat:
Consider using a wooden mat in your bathroom suite. Wooden mats are easier to clean as they only require wiping instead of soaking and scrubbing. Aesthetically them also provide your bathroom with a cleaner and more consistent feel. Should you have additional wooden fittings within your bathroom suits (such as cupboards or shelving) try to match the colour of your wooden mat with those fixtures. While traditional mats are slow to try and often add a damp smell and feel to your bathroom, the wooden alternative eliminates this problem. This option will provide you with a space that is clean, without the effort of the traditional bathroom mat options.
2. Floral Fortitude:
Add your favourite flowers in a vase somewhere within your bathroom suite; be it on the side of the bath, or next to the shower, or stationed nearby the basin. Flowers add life and living colour to your bathroom and change the energy of the room as they brighten your space. A fresh vase of flowers will make your space feel more relaxing, energising and life giving. Their colourful petals and fresh scent will compliment the design of your bathroom suite and provide you with a pleasant fragrance when you enter the space. Inhale your favourite flowers scent while you close your eyes and drift to a place unknown.
3. Mood-lifting Music:
The connection between music and mood has been long proved by psychologists. Your hearing is a vital sense to engage in order to uplift or alter your mood. By creating the right playlists, you are able to stimulate your desired mood into action. Prepare different types of playlists for your bathroom suite; some to energise you (for your morning bathroom activities), others to inspire you (for those days when you just can't) and another to soothe, calm and relax you (for your evening bathroom sessions). By selecting the correct soundtrack you will be able to leave your bathroom feeling like a whole new, restored person.
4. Simply Simpler:
Keep your bathroom suite simple. Get rid of anything within that space that doesn't add value to your peace of mind, allowing your to only be surrounded by calmness. Unclutter the room completely, assisting the space in becoming the tranquil oasis you always dreamed of. Allow your bathroom to be a place of calm and ordered thoughts. This is achieved more easily within a space that is physically free of clutter. Let the room emulate the headspace you wish to have.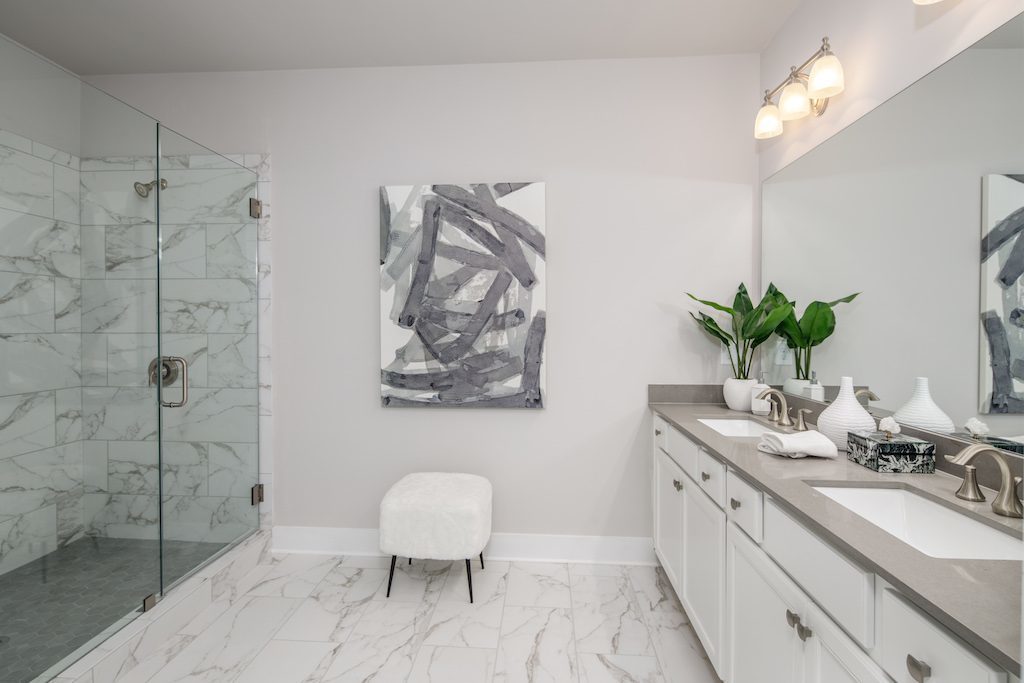 By implementing these changes into your 2019, upgrading your bathroom suite and focusing on the points mentioned above; you will have created a safe space within your home that is instrumental in setting you up for success in your year ahead.